Friday, April 14th
woke up early, got busy in the kitchen to prepare MeePok for the makan & crop session at Charlene's place later. still had time to message Dah & Shemah to ask if they're ready for the "show" later! we'll be meeting together to head to Boon Lay<---so far!!! hehe...40 minutes train ride from AMK ;)

got my little ones ready, reminding them to please behave themselves at Charlene's. got myself ready, packed everything and off we went. met Dah at our usual meeting place. she's as joyful and lovely as usual. :) took the bus to AMK then took the train and it's just a coincidence that Shemah also took the same train that we were on! we got off at Boon Lay(so this is what Jurong looks like???) hehe... as per Charlene's instruction, we took the bus from the interchange and alighted at the designated bus stop. we walked...and we walked some more! until we got to her block.

we arrived, someone greeted us at the door but it wasn't Charlene. hehe...all the not so familiar faces which includes us! finally the gate was opened and we entered Charlene's lovely place. so the food was spread out on the table as most of us were already hungry.
MeePok & Fried BeeHoon

Beef Macaroni & Chicken Curry
Aida Brought These Yummy Egg & Potato Filled Curry Puffs & Shemah's Delicious Fudge Cake
Apple Strudel from Clara & Pretty Ladies With Their RAK Gifts :)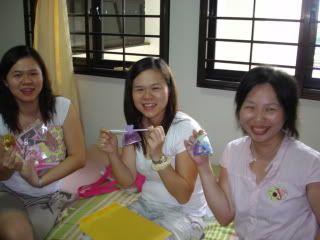 After tucking ourselves into the delicious food which we managed to save for the others coming later, we got started on our scrapping. Aida & Sri were really great, sharing their techniques with all of us. Sri brought her gorgeous set of fontwerks stamps! Not forgetting her very very pretty girls Yasmine & Jules. They are so precious! Each time we wanted to take a shot of them, they'd go "Cheeeeeeeeeeeeeeeese"! So cute! :)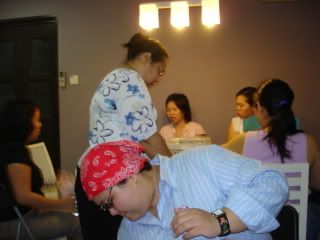 Supervisor Agnes, Aysha Enjoying Herself, Shemah Hiding Her Face & Our Gracious Hostess Charlene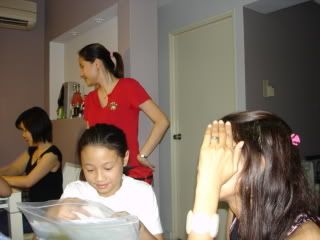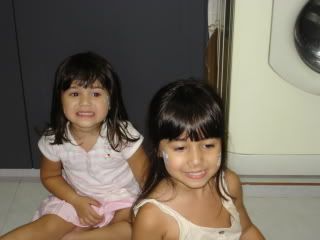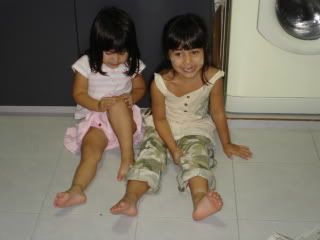 we all had so much fun, kids and adults! (not sure about the men though..hehe) the day was enjoyable, the scrapping was indeed happening. the half hour tag challenge was challenging when Anis kept looking for me!!! but most of all, the company was great! so much laughter, smiles and silly jokes going on.Thanks to Charlene for opening up her home to us all and alas...the kids totally messed up the room!!! Ratna arrived later with her joyful cupcakes! yummy! and so did the others. so glad to see everyone! hence, we all ate some more!!! hehe... more pictures of all the girls. sadly, battery went flat and didn't even get shots of Muesa & Agnes' son. and not even the LOs.. :( ahh...i'm sure someone else took some shots. more of the girls...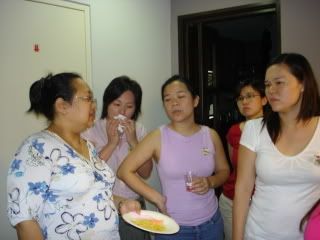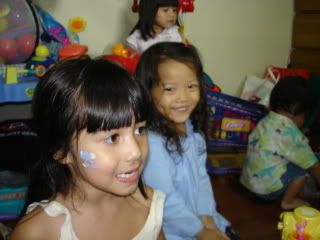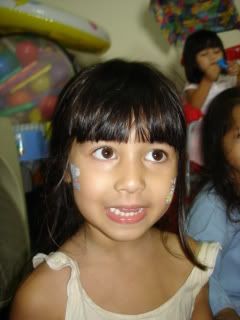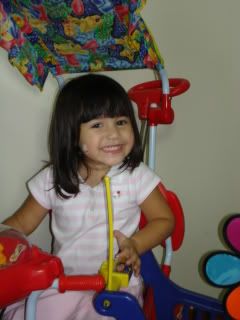 Thanks Charlene for your warm welcome, i especially LOVE the name tags she made for each of us! Thanks Sri for the lovely gift bag! i like :) Thanks Agnes for your RAK to Aysha, which means iget to use them too..hehe ;) Thanks Everyone for your great company. all the RAK prizes were superb and looking forward to another round of cropping & more food!!! :)