got up early this morning and she was all ready to go to Science Centre! it's her very first school excursion :) not many of her other classmates went but i just want her to experience the fun and just enjoy herself
.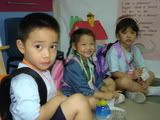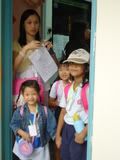 only a handful of her classmates were going and the rest are from other classes. they took 2 big buses and i'm sure she will have a great time.

we were told to come pick them up at school at 3pm but they arrived at almost 4pm! was worried of course but glad they got home safe :) she said she had fun.